Reasons to migrate to WooCommerce
If you are thinking of migrating your Prestashop online store installation to WordPress,in this case Woocommerce (WordPress online store plugin) you do well, and you're sure to have taken into account any of these factors:
Popularity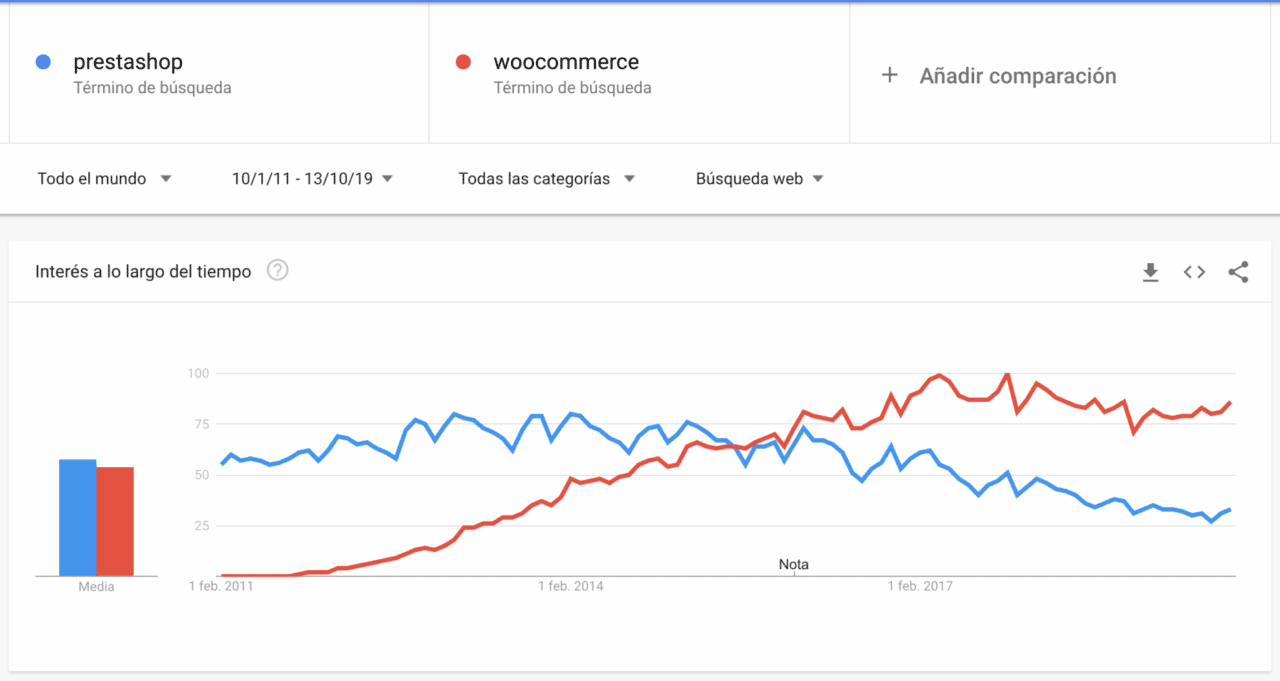 Popularity is very important to me. And it's because if many have bet on a platform, it's because it's good, right?
And not only is it good because there are many users in itself, but also because the software is moving faster, there are more resources for its development and modules that support it, making it easier to offer functionalities.
Automattic is behind
The company that led the development of Woocommerce, was bought by Automattic (which develops WordPress) in May 2015. It was an excellent move and users benefited, as the Online Store project was universally consolidated.
Interestingly since that date, it was when Woocommerce has outperformed Prestashop in popularity. Surely many users would trust Woocommerce more ever since.
All in one administrator
I have seen many pages that make mixes of different CMS (content managers) on a single website. Mixes like Prestashop + WordPress for the blog, PHP + Prestashop + WordPress (the most convoluted), PHP + Prestashop, etc.. This makes it difficult for the user to maintain their own website,as they have to access different sites to change the information, and we do not have with circumstance that sometimes even there are parts that can be changed.
Having WordPress + Woocommerce you have a single admin to manage your online store, blog, static pages, and more. Very easy to manage and maintain.
Better sales opportunities
The blog is a tool to get new customers. The better it is integrated with the online store, the better options we will have that the user "does not miss" and continue browsing to buy in our store.
In addition, within the online store, you can integrate your blog posts, making the page more attractive for search engines.
Our Migration Service
Our migration service is based on migrating as many platforms as you can have in your online store, and integrating them into a single platform. If you have a blog with WordPress and an online store with Prestashop, we integrate it into one.
To do this we perform the steps to get the best result.
1. Study of the current system
We see the current system you have, and we see the best way to migrate all your data.
2. Data Migration
We also migrate all the data so that you don't have a problem on the new website:
PrestaShop products.
PrestaShop product images.
PrestaShop product categories.
Allows you to migrate PrestaShop product labels.
Migrate PRESTAShop CMS (such as messages or pages).
Migrate product features.
Migrate product combinations.
Migrate employees.
Migrate clients.
Migrate orders.
Migrate grades and comments.
Migrate discounts and coupons.
Migrate users and passwords.
SEO: Redirect PrestaShop URLs.
SEO: Migrate meta title, description and keywords (compatible with WordPress SEO plugin).
3. Redesign of the online store
Taking advantage of the new migration, it would also be an opportunity to redesign the web and adapt it to your needs.