Online learning is here to stay, presenting itself today as a fundamental tool to support education. That is why, from Close-maketing, we want to talk to you today about our Online Academy Platform service.
We are going to start by explaining what a Learning Management System (LMS) is. These systems are platforms where all the necessary tools to manage, design and deliver learning programs are integrated.
In other words, the administration and management of courses, students and activities is done through the same web page. This is a great advantage because we save a lot of time having all the resources and configuration options centralized. In addition, communication between teacher and student is greatly facilitated.
What is LearnDash LMS?
LearnDash LMS is the Learning Management System we work with at Close-marketing, as it has a number of features that make it unique. The courses created with LearnDash LMS are dynamic, engaging and at the forefront of trends in the e-learning industry. It also features a very intuitive platform, which helps you get familiar with it quickly.
In order for you to better understand why we decided to work with LearnDash, let's summarize some of the main features of this WordPress plugin below.
Powerful course builder
Creating content in LearnDash is very easy. Courses can be hierarchically structured into sections, lessons, topics and quizzes. And in them you can include a variety of multimedia content: text, graphics, images, links, audio, animations or videos. All in different formats.
Editing is also very intuitive since we can use the drag and drop system, thus quickly organizing the components of the course.
There is also the option to "allow assignment upload" so that students can attach files as an assignment. These assignments will remain in a section of the platform so that the teacher can access them quickly.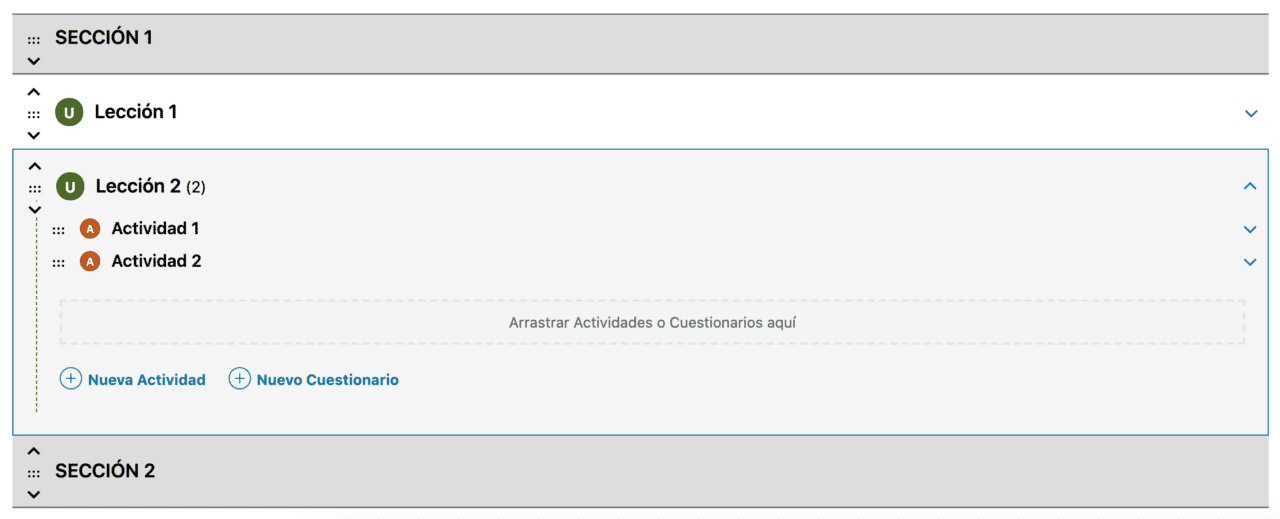 As you can see in the picture, we can change the name of the course structures. For example, instead of "Topic" we have chosen to name the sections within the lessons as "Activity".
Multiple settings
LearnDash LMS has a multitude of settings so that courses, and their content, can be configured in a way that best suits the type of teaching we wish to deliver.
For example, we can choose to create free or paid courses (with the possibility of one-time payment or subscription). At the same time, we can also create closed courses, that is, only for users who are registered on the platform through an administrator.
We can also configure the course contents to be opened completely on a certain date or in a linear way, which means that a lesson will not be shown until the previous one has been passed.
The quizzes also have a variety of settings. We can set a time limit or attempts to complete them. It is also possible to configure that the student receives a certificate when he/she completes them. A quiz can also be associated with the course (as if it were a final exam), or with specific lessons, allowing the teacher to check how the students are progressing.
Another advantage of LearnDash is that quizzes can have different question styles: multiple choice questions, short questions, development questions, fill-in-the-blank questions, associations between concepts and classifications. We can also include multimedia content in the questions if necessary.

And as if all this were not enough, once the activity to be evaluated is completed, all these functionalities are offered to us: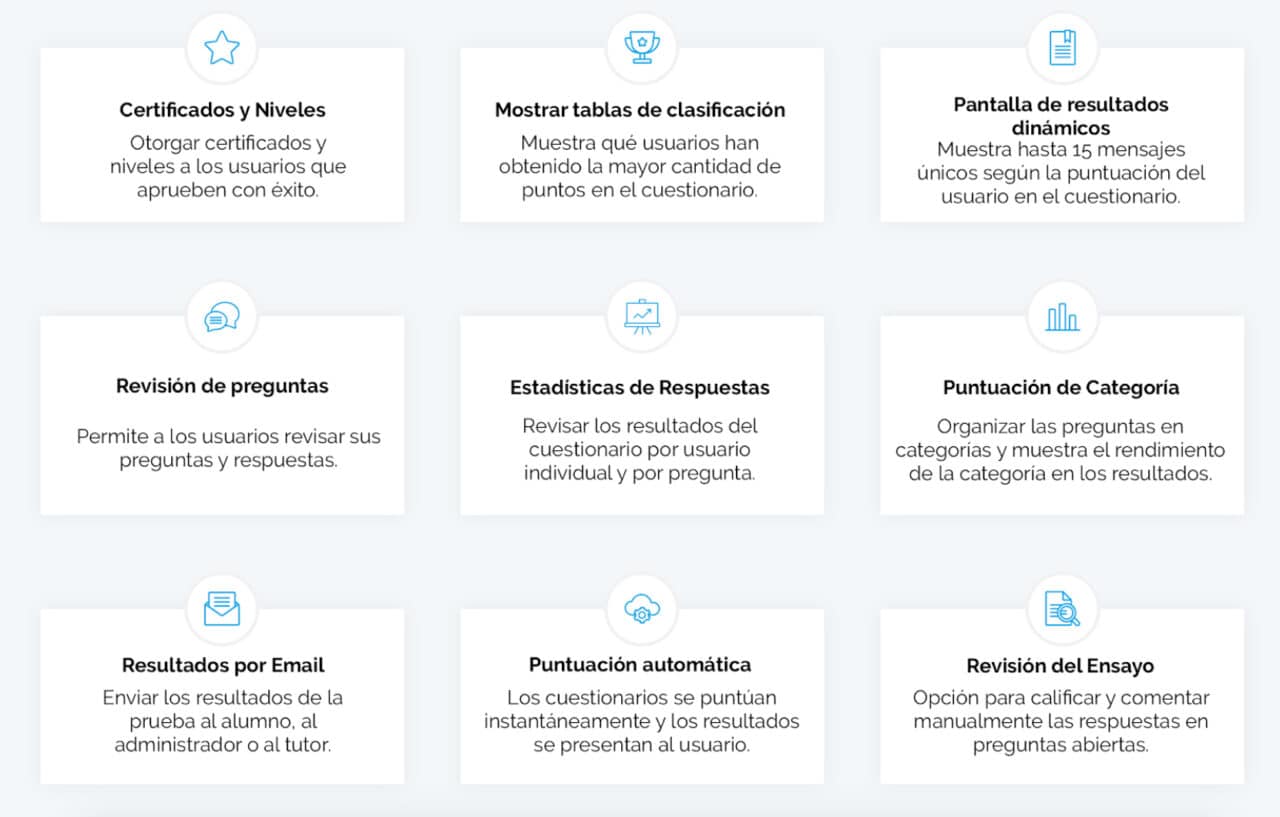 Customization option
LearnDash offers settings to customize your courses according to your brand design. It also has a distraction-free view that organizes a sidebar, like an index, from which we can access all lessons, topics and quizzes quickly.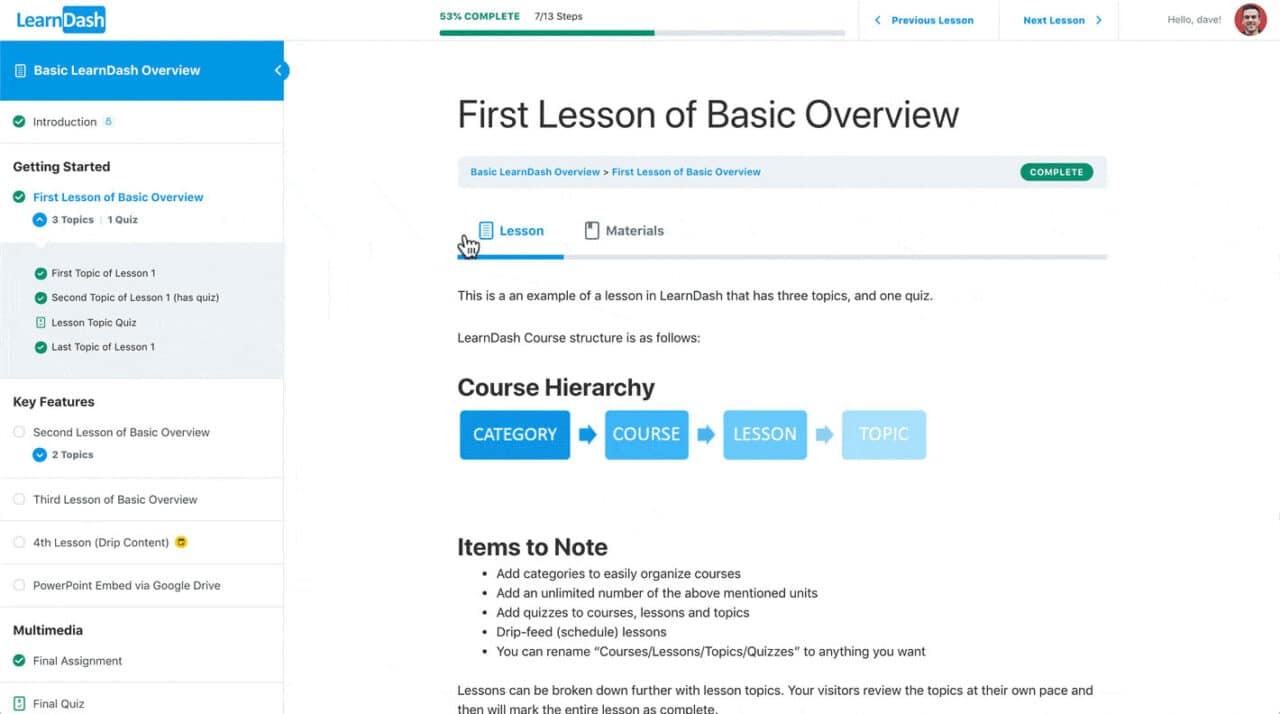 Comprehensive administration
With LearnDash LMS we can also have greater control in the management of students and courses. It allows us to manage: 
User Profiles → Features comprehensive user profiles so learners can view their progress, quiz performance or print any certificates earned. As an administrator, you can quickly and easily manage your users.
Email notifications → You can configure which notifications you want the student to receive by email. For example: when they finish a lesson, upload an assignment to the platform, pass a quiz, etc.
Group management → Allows you to organize students into groups as you see fit. In each group you can appoint a "Leader" to help you manage the progress and performance of the group. Therefore, we will be able to have on the platform users with student role and users with teacher role. It also allows you to mass enroll users in several courses at the same time. In addition, you will be able to extract specific reports related to the group to know how it is working globally.
Detailed reports → You can view reports and statistics on the students' activity in order to recognize their needs in more detail. For example: see the progress of a student in a certain course, know the time they are spending on it, review the pending tasks that require attention, etc.
Assignment management → As we have already mentioned, LearnDash allows students to upload assignments to the platform for teachers to correct. All these assignments are stored in a specific section to facilitate their management.
Temporary access management → Allows to set an automatic expiration of the course. To do this, we will indicate the number of days in which the student will be able to access the material after enrolling.
We can add extensions
LearnDash offers many extensions to increase the functionality of the courses. It features integration, for example, with WooCommerce, MemberPress, Gravity Forms or GamiPress.
One extension that we find very interesting is to create forums to encourage interaction between students using bbPress. The forums can be public or limited only to the students of the course.
Another option is to create a gradebook thanks to the LearnDash GradeBook extension. This will automatically synchronize the student's quiz grades and assignment grades. It is also possible to set weights and enter manual grades, outside LearnDash, by the teacher.
As you can see, with the power of LearnDash and WordPress it is easy to create your own e-Learning Platform and adapt it to your needs.

If you want to know more, don't hesitate to contact us, we will be happy to help you!