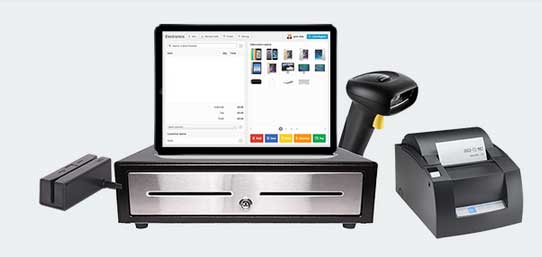 Have you ever wondered what it would be like to have your e-commerce connected directly to your store's POS to manage everything from the same device so that you can control and manage your stock, products, sales and promotions at all times?
We know that it is a complicated task so from Closemarketing we present a solution adapted to that need. It doesn't matter the industry, the products and its characteristics. Everything will be organized and you will have it under control thanks to the fusion of three elements that we provide you:
Your website and online store with an attractive and personalized design
A Hardware: POS for Sales Management
A Software: Point Of Sale System integrated into the e-commerce engine
These three elements will allow a perfect management of your activity :
You can process orders wherever you are using a mobile device
Allows validation and cancellation of orders
You can add annotations to each transaction in your POS
The Display is easy to use and has a keyboard on the screen itself
Accept cash, card payment and cheques
You'll manage your store in the simplest way with a program that has been designed by users and customers, which makes it more complete and easy to use:
You can add different variables to your products

Meta tags will allow you to customize your products, this will allow the user and the customer to see exactly what the product and its variants are like (color, size, weight, etc.)
Product data. It's never been easier to customize your products, put the name, price and quantity is all you'll have to do to sign up for a new item.

Order and shipping. You can add this option if you want your customers to receive the products at home. On the other hand you also have the option not to activate this option and to collect the products in your store directly.
Discounts. Prepare your rebate and discount strategy and get it up and running easily, choose the discount percentage and set the price. All this will be embodied so that customers can see it and know that the product is downgraded.

I'll pay. In the payment tab you can choose different means. Cash or card payment can be used and you can print the invoice at all times.
All this will be reflected in your accounts so you don't have any problems to square the box.

Orders. Your customers' orders will be saved. You have options to filter orders easily. You can see which ones are already completed or which are most urgent. You can print your orders if you need to simply by clicking a button.
Taxes. In the program you will also find an option to manage your taxes effortlessly. You can set up how to calculate about your sales and your customers' invoices.

Templates for orders. You can set up and customize your orders and invoices. Choose the options you want to come out, add your logo, a barcode, etc.
These are just a few of the options that will make your day-to-day life easier in your business and that will allow you to centralize all the management and gain a lot of time.
Find out without obligation and turn your business around.