If I upload good content … why do I sometimes have many likes and other times my content is barely shown? We present what the algorithm is and how you can make it worship you.
If we face something when uploading content, it is not only to think about the idea and carry it out, but also to try to be favorable to what the digital marketing algorithm is.
What is the algorithm
Within what is the algorithm, there are many meanings that encompass the concept, but within the marketing sector it has a concrete one. This helps us calculate, solve problems and is present in current technology as a content and audience management tool. In marketing it is key to try to make it positive, since in this way we will make our brand more favorable to visibility and conversions.
The algorithm on the internet can be seen in:
Search engines: when we search for a word or phrase, the search engine calculates all the results that match the desired and shows us in different positions the options. To work this, tools such as SEO and SEM can make our content be shown in the top positions, that is, the first thing we see when performing a search. To know what the algorithm is, we can think of a ranking or a tool that orders according to relevance.
Streaming: when we consume content, the algorithm usually recommends similar. An example is the playlist that Spotify creates by default every week based on your listens called "weekly recommendations" or that series that comes out in the Netflix section of "based on your tastes".
Social networks: either through an organic process or through paying for advertising, the content is hierarchized and makes us see a post before and others are not even shown. In this blog we will focus on this section.

The importance of staying up to date
As you may have guessed, knowing what the algorithm is and knowing how to control it is a determining factor that affects your online presence. This is in continuous change and evolution, so it is advisable to rely on marketing experts who are attentive to all the news and develop a social media strategy that contemplates this factor.
While it is important to think about reaching many people with our publications, we should not neglect the quality of these either. If we create a Facebook post where you are asked to react with one emoji or another, people stay with that moment, not with the brand. On the other hand, with a post of interest, you are more likely to make the user follow your account to continue receiving valuable content.
4 Tricks for Instagram
Exploit the video format: Instagram in its latest updates gives priority to this type of content. Dare to change and use reels to reach more audiences. Beware of reuploading TikTok videos! You can be penalized if they identify their watermark if you don't know what the algorithm is working for this network. Here are a few tips.
Use stories: a tool much more consumed and viewed than posts with a publication duration of 24 hours. Use the options it gives you such as stickers, bars or quizzes to create interaction. In this way, Instagram seeing that your content is relevant to users when interacting with it, will position it better.
The power of the hashtag: do not forget about it or underestimate the fundamental role it has to reach an audience interested in your topic. If you want more recommendations of this, you can consult it in the article that we dedicate to it.
Leave nothing unfilled: from keywords in your descriptions, locations or alt texts in your photos. A trick that only a few know and will help position you 😉

Tips for Facebook
1. Interact in groups: this will help them get to know you and keep your brand active. You will connect with your target audience and generate engagement. For example, if we are a hairdresser, a good option would be to put our latest haircut in a group where the latest style trends in the sector are discussed.
2. Beware of clickbait: Facebook penalizes this type of tabloid content by calling it spam and fake.
3. Use the key hours: it will depend on the type of audience that follows you, so it is key to analyze and study our presence. A company that offers breakfast, which must communicate first thing in the morning, will not be the same as one that disc based on nightlife. This way your audience won't miss out on content and you'll improve both visibility and interaction. You can analyze this in the statistics –insights– that each social network offers you.
4. Get your audience excited: reactions like "I love it", unlike the usual like, will position better. Generate content of interest that people get excited about, reflect, inspire, and interact with. Something so simple within what is the algorithm of interactions can make our publication go further.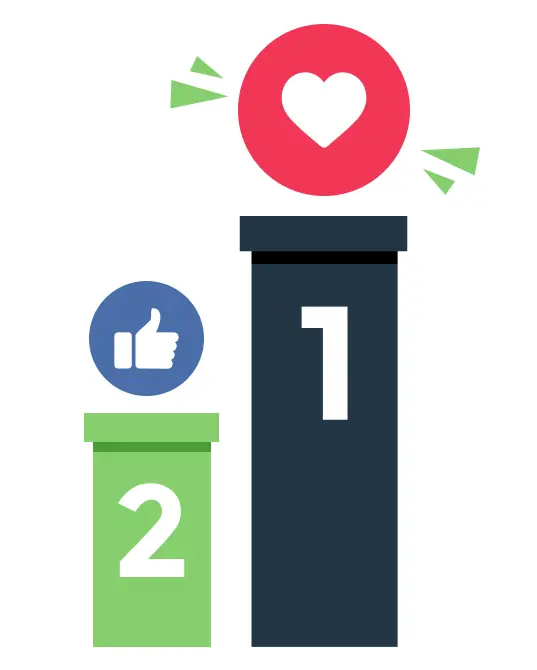 Tips for TikTok
Use trending sounds and take advantage of fashions: given the growth of viral, your content will be shown to more people for having a theme that generates interest. For what the algorithm is, being up to date will help to position better.
Interact with the public: no more letting those who tell you in sight. Respond to your content to be activated and conversations are generated.
Stand out from moment zero: make them stay to see you as soon as they leave on their screens and capture attention to get visualizations.
Tricks for LinkedIn
Encourage comments: A comment has four times more reach than a like. Try to end your post by asking what they liked the most, encouraging them to leave a comment or consult the position on a topic. Try to generate comments within two hours of publication to position yourself better. In this way, within what the algorithm is, it will be positioned as content of interest and generate visibility.
Share a post with these rules: 150 words in the description, three hashtags not used in the original publication, tag the author and try to get him to comment.
Avoid publishing very continuously: making numerous publications without leaving time between them will make LinkedIn recognize you as spam, for example, if between one publication and another we only leave 5 minutes of margin.
Do not modify the text once you publish: this platform has a validation process of your content to be disseminated. Modifying the text will cause your publication to go back to the initial review process and not really know what has been changed.
Now that you know what the algorithm is and you know these tips, you can get a better positioning in your publications. As we patch you up, trust experts in online marketing management as we are at Close·marketing to trust that you see visible to your consumers.
What data surprised you the most? Has the algorithm ever played tricks on you? What is the algorithm that you see more complex to control? We read you! 🙂