Given the rise of users in BeReal, TikTok Now emerges, an app that shows that TikTok is committed to continue growing and evolving.
It's no surprise to anyone that social networks look to their competitors to include tools that work in the rest. The operation of Snapchat implemented in Instagram stories, the format of reels in response to the rise of TikTok videos, the so-called "green circles" of Twitter similar to the option of "best friends" of Instagram …
When a social network becomes popular and offers an original model of displaying content, other social networks see this as a threat and decide to act to retain the user. Now the victim has been BeReal.
As we anticipated in our article on the latest Instagram updates, BeReal is the envy of the rest of the networks and while some are still working on incorporating a similar tool, TikTok has been the first in this race.
What is TikTok Now
TikTok Now is a new application with which we must log in through our TikTok account. This app encourages users to share what they are doing at a random time of day by showing what their rear and front camera sees. In this way, spontaneity and unfiltered life are encouraged.
The app already integrates this type of content visualization in its main app while we slide, but to upload content and interact with it, we must do it from the application specifically dedicated to it.
Differences and similarities
Among the differences with BeReal we came across the option to record videos of up to 10 seconds in addition to photos. We will also have three minutes to do the TikTok Now compared to the two of its competitor.

As in both apps, we will not be able to see the content of our friends without having made our daily capture, nor access their previous TikTok Now, but we will be able to access ours. We can comment, react and we will not be able to edit anything.
Do you make money from it?
Although its creation has been since September 2022, this tool has become more popular during November thanks to the fact that by inviting users we can obtain small amounts of money. Surely these days you will see more than one of your friends spreading links to get new users and thus get extra money.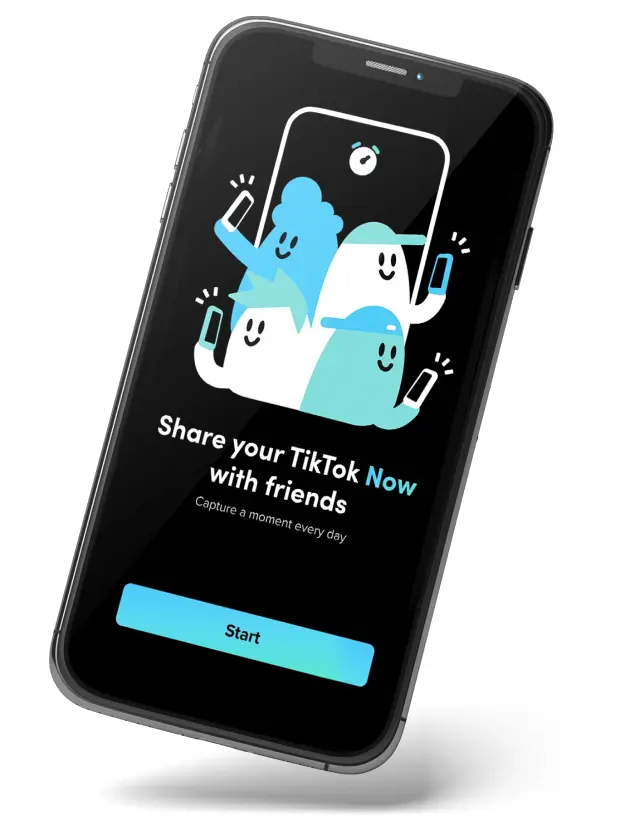 This promotion ends on December 13, so we will have to wait until that date to see if the rate of influx of this app plummets or not. This recruitment campaign has made this app position itself as the first in downloads of the moment in Play Store.
This issue has not been absolved of controversy, since the company that manages this, is obtaining personal information, bank details and our contact list. The biggest controversy comes because this company of Chinese origin does not explicitly show what legislation they follow. Every company in China must share its users' data with the government and they can be claimed by the government at any time.
To date, it is unknown if this company will protect the data of TikTok Now users as would happen with European legislation.
New TikTok competitor in sight
BeReal has already reached 53 million downloads and according to studies, it already brings together more than 16 million daily active users while last year it barely reached 10,000. While it is true that the rise of users in BeReal is a risk, Elon Musk has an ace up his sleeve.
TikTok has not been a pioneer in the consumption of short videos. The first popular case of this format was Vine, a social network with videos of maximum 6 seconds in length.
This platform was closed 6 years ago, but with the recent arrival of Musk as CEO of Twitter, it has been considered to revive this platform that will undoubtedly compete closely with TikTok. If everything goes according to plan, this social network will reopen by the end of this 2022 or the beginning of 2023.
Now that you know everything that has come and is about to come in the fight to retain the user … Do you think it is better to unite the different tools in the same social network or that they all have their own models? Will BeReal be a fad or will it last? Will you use TikTok Now? We read you 🙂