Towards Close goes a campaign, rin, rin, I mended … Oops! Hi, how are you? The spirit of Christmas this year has completely invaded us and we are very excited about everything we are preparing for this Christmas.

And it is that a good example of Christmas marketing campaign, makes a company can present great profits, in addition to teaching its most human side in an emotional and close way.

These dates are also great for businesses, because it is the time when we want to share, give away and we will have greater willingness to consume and spend. Being on time and being original at Christmas can make brands have more impact and, therefore, a great economic reward.
Harry Closer and the magic of Christmas
This year the creatives of the agency have been going round and round our Christmas campaign, wanting to make a movie card, and what better movie at Christmas than Harry Potter. That is why we have created a small "parody" of one of the highest grossing saga in history, yes, always taken to our wonderful world of marketing.

A cart that pierces screens, a Santa Claus selection hat or a spell that makes snow in the agency, the team's strong bet for this Christmas. And the real magic is in this agency.
Closeness in our campaigns
Every year we try to impress and do different things, but Close·marketing as always has a motto that not only defines its name, but also the whole team, all its work and all its results, closeness. Because closeness makes Christmas special.
CHRISTMAS 2018 – When we were minimalists

Making films has not always been our mission, in 2018 when the small GIFs were taken and the team was still consolidating, we congratulate Christmas like this:

CHRISTMAS 2019 – Illustrations were all the rage

In 2019 the team grew and we wanted to make the congratulations more personal, something closer, the union of all our components through illustration…
CHRISTMAS 2020 – A year in which closeness was online

This year, Christmas was spent at home, as a result of the Covid-19 pandemic, we wanted to show a more virtual office with all our silhouettes as a presentation with a very special message that brought together everything a company needed from its communication and marketing agency.

CHRISTMAS 2021 – The funko factory that brought you gifts

The whole team had become elves to bring gifts to everyone, this is how working in their factory made people's dreams come true. Ah! Have we commented that these elves were funky?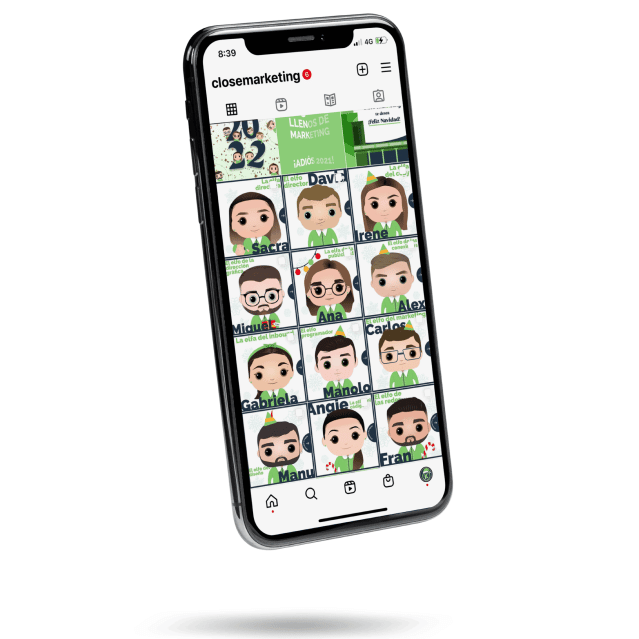 The Close·marketing team wishes you Merry Christmas!