We are Google certified professionals as best practices in Google Campaign Management.
Search Engine Marketing is based on appearing relevantly in searches that are related to your business.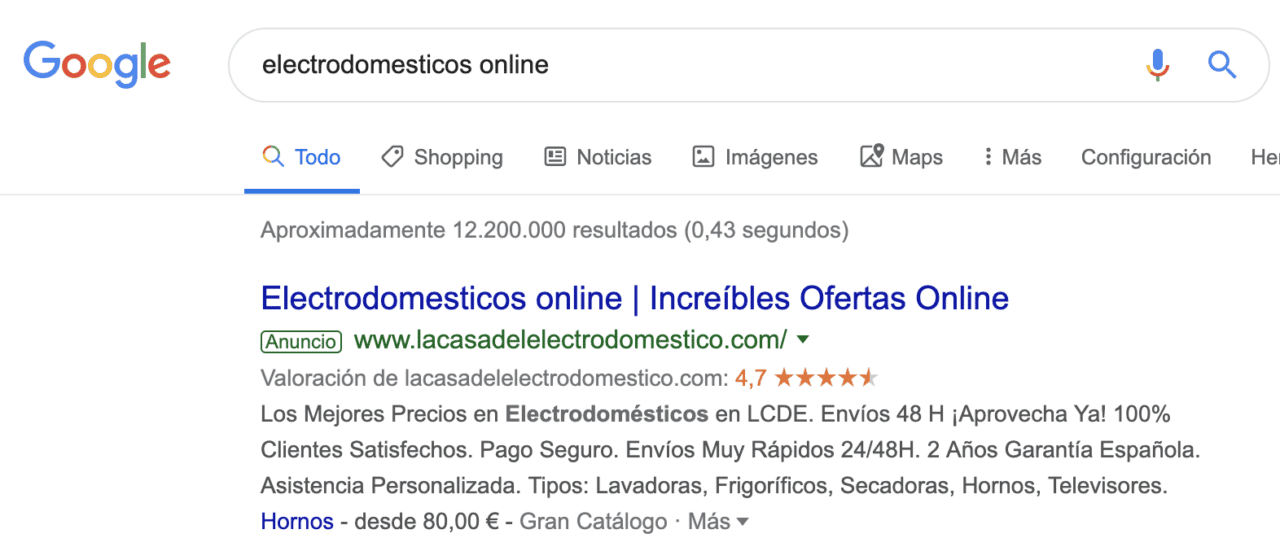 The fundamental principle: to be present when looking for your services
Today Google is the majority search engine in Spain, and with a great capacity to generate new contacts or potential customers. This power is based on a user searching the Google search engine for the service they are looking for in their province and starting to know new companies that can sell their services.
For example, for a market study based on a particular location and products, we may know the actual demand in Google searchengine about those products, in order to take that into account for the creation of advertisements as content of the pages.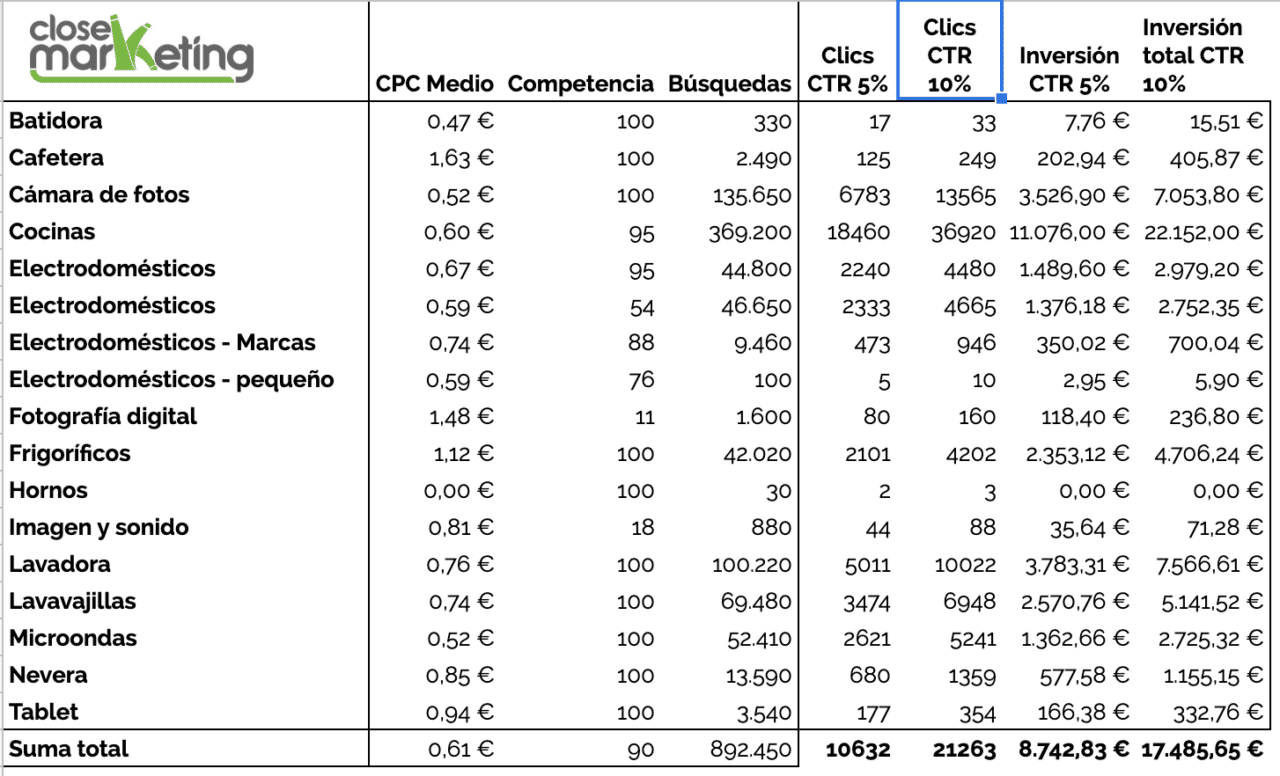 This table is an example of a Market Study for Appliances in Spain by product grouping, where it shows us about 892,450 monthly searches in total.
You only pay for users who click on your ads
It's the fundamental principle by which Google has become so popular with its advertising program. PPC or Pay-per-click, as it's called a way to target users, means you only pay for the user who clicks on your ad and visits your website. To make it easier, think about whether you're hiring a billboard and how much you over-pay for users who see your ad and don't care.
Here you only pay for the ones you've gotten the user to click on,so you pay for traffic to your website.
Methodology
Our methodology ensures results from day one, by the way Search Engine Advertising is created:
We conduct a real demand study to learn how to target people looking for your services.
We quantify your ideal Budget to target those users and meet your goals.
We plan and create the campaign to ensure the best results.
We continuously track results and generated contacts.
Why invest in advertising with Google Ads?
Google Adwords is the most important online advertising platform, because it generates many benefits for its advertisers, among which we highlight:
You only pay for users who click on your ads. The cost of your advertising is always for users who are interested in your services because they clicked on the ad. You pay for traffic that can come to your website, and that generates your own customers.
Segmentation of interested users. We may display your advertising on google's network, taking into account geographic location, interests based on keywords related to your business.
Profitable advertising. After you entrust your Google Adwords campaign to our Agency in Granada,you'll see results right from the start, and you'll receive leads from day one.
Hurry up. You'll get to be in the first search results for related keywords, at the same time we start the campaign. This allows you to see results very quickly.
Request now our Free Online Market Study,where we can offer you a clear view of your online possibilities with your products or services.
Why trust us (Google Ads Agency) to manage your advertising?
Main reasons to trust us:
We advise you from the beginning studying your potential market.
We establish Campaigns according to periodic objectives and results.
We design our own creativities.
Being in Granada, we will be able to hold regular follow-up meetings.